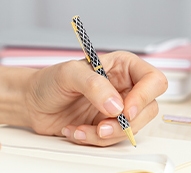 Stationery & Pens
Display is limited to 10 products per category. Apply to
open an account
or
login
to view full range and pricing.
Rose Gold Crystal Pens (6)

Product Code: 20541

Diamond Cut Santa Pen (6)

Product Code: 20542

Diamond Cut Candy Cane Pen (6)

Product Code: 20543

St Clements A4 Notebook

Product Code: 20578

St Clements A5 Notebook

Product Code: 20579

St Clements A6 Notebook

Product Code: 20580

St Clements 2Pce Gift Pen Set

Product Code: 20582

St Clements Gift Wrap

Product Code: 20583

St Clements Meal Planner

Product Code: 20584

St Clements Note Block

Product Code: 20585

BUY WHOLESALE STATIONERY & PENS IN AUSTRALIA

Stationery is something we have to interact with every day. Whether it be for work, for art, or simply to jot down notes, it's always essential that we have our favourite stationery at the ready when and where we need it. That's why Gibson Gifts, as an established stationery wholesaler, is here to ensure you and your customers have a full range of wholesale novelty stationery and pens in Australia. Bringing together high-quality manufacturing and wholesale prices, the Gibson wholesale stationery range is hard to beat.

Shop Our Full Range of Wholesale Custom Pens & Stationery

These Stationery & Pen packs are sure to be well used by customers and businesses alike. They also make fabulous gifts for those who like to write or like to furnish their office with stylish Pens and Stationery. Gibson Gifts is an experienced Australian stationery & pen wholesaler, so start offering your customers the functional gifts and products they are looking for.

Why Buy Art Printed Pens Wholesale From Gibson Gifts?

As a business owner, you need to be able to stand out from your competitors, and that means having consistent, unique, high-quality products that keep your customers coming back. As one of Australia's most experienced giftware, pen and stationery wholesalers, we offer a wide range of high-quality products ranging from art-printed pens to socks, beanies, jewellery, and more. So, when it comes to quality, we have a reputation to uphold.