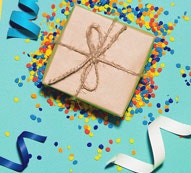 Occasions
Display is limited to 10 products per category. Apply to
open an account
or
login
to view full range and pricing.
His Smile Tealight

Product Code: 52699

Her Smile Tealight

Product Code: 52700

Forever Memorial Frame 4X6" R

Product Code: 20416

Forever Memorial Frame 6X4"R

Product Code: 20417

Forever Memorial Frame 4X4" R

Product Code: 20418

Memorial Oil Burner R

Product Code: 53204

Tealight His & Her Smile (2)

Product Code: 54908

Tealight Dog & Cat (2)

Product Code: 54910

Dog Woof Photo Frame R

Product Code: 20419

Cat Meow Photo Frame R

Product Code: 20420

Shop Our Full Range of Wholesale Special Occasion Stock

From 50th wedding anniversary mugs, champagne flutes and glass sets to celebratory pen sets marking 25th, 40th and 50th wedding anniversaries, to home decor - including decorative picture and photo frames to help celebrate and mark any special occasion or life event, Gibson Gifts have it all - right here on our website. Choose from colourful gifts to mark any special occasion in your customers' lives, and make sure you have the stock they need to celebrate important life events and milestones with family, friends and loved ones.


Perfect Gifts For Any Occasion

If special occasions all have something in common, it's that people love to come together and give gifts to show that they care. Whether it's a very gift-oriented holiday like Christmas, or something as sentimental and personal as Mother's Day, your customers are sure to be looking for different unique occasion-specific presents to share with loved ones, business colleagues, bosses, friends, and more. So, when the day for a special event appears, it's best to be ready for it, and what better way is there to prepare than with unique, beautifully-designed wholesale occasion gifts from Gibson Gifts?

For decades, Gibson Gifts has been offering Australian businesses access to a rotating selection of fantastic wholesale giftware varieties at affordable prices. With new designs and collections being added all the time, you can be sure that your stock needs are in good hands. So, whether it's Easter, Valentine's Day, or just a big celebration, make your store the first choice for gift-givers with Gibson Gifts today.


Why Choose Gibson Gifts for Your Special Occasion Needs?

With fast delivery and the quick dispatch of orders upon ordering, as Australia's leading wholesaler for over 60 years, Gibson Gifts can offer you some of the most competitive wholesale rates and price points for all your special occasion needs. Stock your shelves with our wholesale special occasion stock, and your customers will be sure to find something they love. We have a wide range of occasion gifts, decor and accessories to choose from, offering your customers a varied choice of options to choose from.