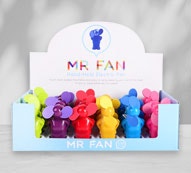 Novelty Cdu
Display is limited to 10 products per category. Apply to
open an account
or
login
to view full range and pricing.
Rfid Card Protection Case(4)

Product Code: 36990

Mr Fan (6)

Product Code: 37342

Kids Screen Protect Glass(20)

Product Code: 86785

Extendable Back Scratcher (2)

Product Code: 52052

Anti Germ Multi Tool (2)

Product Code: 53006

Led Touch Light (2)

Product Code: 53007

Microfibre Cleaning Cloth (6)

Product Code: 53009

Chill Me Mist Water Bottle (4)

Product Code: 53287

Chill Me Cooling Towel (4)

Product Code: 53736

Syringe Highlight Pen (5)

Product Code: 53748

BUY WHOLESALE NOVELTY PRODUCTS IN AUSTRALIA

Being a fantastic standout retail business isn't always about the big products. Sometimes, it's the little things that need a little more love, such as the products that line your counter. CDUs for retail is a big part of the retail store experience, and they are something that will invariably stand out to people whether they're walking in for the first time or waiting to pay for their purchases.

At Gibson Gifts, we stock a fantastically fun selection of Australian wholesale novelty products for you to choose from, including CDUs for retail, jar openers, computer reading glasses, and a wide array of other knick-knacks and unique little gifts. That way, you can make sure that you have the best of the best for your customers no matter where they are in their purchasing journey.

Explore Wholesale CPUs for Retail, Novelty Gifts & More With Gibson!

Gibson Gifts works to curate a range of novelty counter display units that are easy to display and attractive, designed to gain the attention of your customers. Sample a mixed variety and see what resonates with your customers, or choose the products that are most aligned with your current giftware stock. Be sure to check back as the Novelty CDU range is frequently replenished.