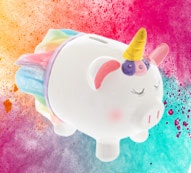 Kids & Plush
Display is limited to 10 products per category. Apply to
open an account
or
login
to view full range and pricing.
Night Buddies Night Lights(6)

Product Code: 53808

Night Buddies Koala Grey R

Product Code: 53809

Night Buddies Bunny Blue R

Product Code: 53811

Night Buddies Panda R

Product Code: 53814

Fairytale Tray R

Product Code: 51977

Spaceman Tray R

Product Code: 51984

Bamboo Kids 3 Pce Dining Set(3

Product Code: 52703

Cat & Dog 5 Pce Kids Dining St

Product Code: 52704

Billy Bear Giant

Product Code: 51810

Princess Piggy Moneybank

Product Code: 53917

BUY WHOLESALE KIDS & PLUSH TOYS IN AUSTRALIA

There's nothing quite like the connection a child can make with a plush toy, and with them being one of the most popular choices for gifts, it's good to have a high-quality selection. That's where Gibson Gifts is here to help, providing you with a wealth of fantastic wholesale kids & plush toys in Australia to choose from.

A Wide Array of Wholesale Kids Toys to Explore

From kangaroos and giant lions to astronauts, happy fairies, hippos and more, Gibson Gifts can help you deliver whatever your customers need. Our range is beautifully designed and manufactured, and given that they are wholesale kids & plush toys, you can be sure that you're getting the best possible price on bulk orders.

Shop With Gibson Gifts' Wholesale Plush Toy Range Today

Did you find the kids' toy or plush doll you were looking for? The Gibson Gifts team are always sourcing the best wholesale Australian gifts, so be sure to come back and see the changing collection so you can refresh your offering and surprise your customers.