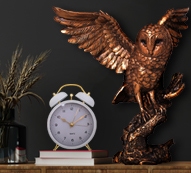 Home Decor
Display is limited to 10 products per category. Apply to
open an account
or
login
to view full range and pricing.
Tree Of Life Plaque (3)

Product Code: 20536

Craft Beer Plaque

Product Code: 20103

Ice Cold Beer Plaque

Product Code: 20104

Coffee & Happiness Plaque

Product Code: 20105

Barrista Dad Plaque

Product Code: 20106

Water Colour (4) R

Product Code: 54342

Lemon Grove Mug

Product Code: 20486

Lemon Grove Mug Set 2

Product Code: 20487

Lemon Grove Coaster Set 4

Product Code: 20489

Lemon Grove Placemat Set 4

Product Code: 20490

Shop Our Full Range of Wholesale Home Decor

Help your customers add character and colour to their home space with our wide range of eclectic home decor. Shop decorative items such as picture frames and wall clocks of various designs - including dart board clocks, dog pendulum clocks, or world map wall clocks. You can also find groovy, artistic objects to decorate your home, stocked right here on our website~ Choose from colourful skulls to horse, cow, elephant and even rooster figurines. Your customers will love our selection of home decor items. Even better, you can procure them from us at a wholesale price.

Why Choose Gibson Gifts for Your Wholesale Home Decor?

Offering competitive, low wholesale price points for all of our wholesale home decor range, Gibson Gifts is a one-stop shop for all of your wholesale home decor stock needs. Fill your shop shelves with our wholesale home decor, and make sure your online store inventory is also well stocked, at the best possible wholesale rates. Maximise your profit margins and increase your revenue by shopping with us wholesale. Best of all, our wholesale home decor items all come professionally boxed up, wrapped and packaged so you can sell them to your customers right away. We also process your order for delivery as soon as we receive it, so you don't have to wait too long for it to arrive.