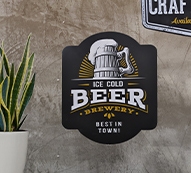 Gifts For Him
Display is limited to 10 products per category. Apply to
open an account
or
login
to view full range and pricing.
Vigorous Mens 50Ml Fragrance

Product Code: 20320

Craft Beer Plaque

Product Code: 20103

Ice Cold Beer Plaque

Product Code: 20104

Coffee & Happiness Plaque

Product Code: 20105

Barrista Dad Plaque

Product Code: 20106

Eqlb Rfid Mens Wallet (2)

Product Code: 20222

Eqlb Rfid Croc Wallet (2)

Product Code: 20223

Eqlb Card & Coin Wallet (2)

Product Code: 20224

Guitar Snack Tray R

Product Code: 52675

Shop Our Full Range of Gifts for Him!

From rockstar guitar-themed mugs, coasters, and drink bottles, to classic car lap trays, leather wallets and even socks for a super dad, Gibson Gifts has a huge, eclectic and varied range of men's gifts for the special man in your customer's life. Whether it's a gift for Dad, husband, brother or even a friend, your customers will always be looking for men's gifts to suit any special occasion. Our wholesale gifts for him make excellent birthday presents for any man, as well as Valentine's Day gifts, Christmas presents, or even just a special token gift - just because. Customers love to show their appreciation for the special men in their lives, and where better to source wholesale gifts to sell to them than through Gibson Gifts?

Why Choose Gibson Gifts for Your Wholesale Gifts for Him?

Our extensive range of gifts for him is sure to keep your customers happy, satisfied and coming back to shop again! Stock your shop shelves, or your online store's website, with our wholesale gifts for him, and secure your men's giftware stock at competitive wholesale prices. Better yet, Gibson Gifts send orders out promptly, so you don't have to worry about being out of stock for long! Even better, our gifts arrived professionally boxed and packaged up, so they're ready to sell to your customers right away.