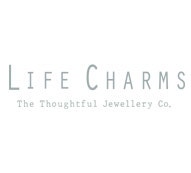 Life Charms
Display is limited to 10 products per category. Apply to
open an account
or
login
to view full range and pricing.
Life Charms Bracelet Mum

Product Code: 20226

Life Charms Bracelet Best Mum

Product Code: 20227

Life Charms Bracelet Grandma

Product Code: 20228

Life Charms Bracelet Nan

Product Code: 20229

Life Charms Bracelet Daughter

Product Code: 20231

Life Charms Bracelet Sister

Product Code: 20232

Life Charms Bracelet Niece

Product Code: 20233

Life Charms B/Let God Daughte

Product Code: 20234

Life Charms Bracelet Auntie

Product Code: 20235

Life Charms Bracelet Friends

Product Code: 20236

Wholesale Matching Bracelets For Mums, Grandmas, Daughters & More From Gibson Gifts

There's something to be celebrated in every person we care about, and that celebration often comes in the form of buying gifts. Just giving someone something to show that we're thinking of them and that we want them to feel happy and loved is a big part of life and one that people are always going to need a way to do. The Gibson Gifts Life Charms line is made exactly for that, offering a range of wholesale bracelets for grandmas, nieces, mums, daughters, and more that can be carried with loved ones for years to come.

It's often the simplest things in life that we cherish most, and if you want to offer your customers something that their loved ones can truly keep with them forever, the wholesale Life Charm range is for you. Log in for prices, or speak with us today if you'd like to learn more.