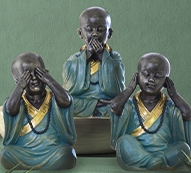 General Gift
Display is limited to 10 products per category. Apply to
open an account
or
login
to view full range and pricing.
Lemon Grove Mug

Product Code: 20486

Lemon Grove Mug Set 2

Product Code: 20487

Lemon Grove Coaster Set 4

Product Code: 20489

Lemon Grove Placemat Set 4

Product Code: 20490

Lemon Grove Tray Small

Product Code: 20491

Lemon Grove Tea Towel

Product Code: 20493

Lemon Grove Single Oven Glove

Product Code: 20494

Lemon Grove Apron

Product Code: 20495

Lemon Grove Stemless Glass

Product Code: 20496

Lemon Grove Vase

Product Code: 20497

Shop Our Full Range of General Gifts

Our selection of wholesale general gifts ranges from aromatherapy, fragrance and wellness gifts to miscellaneous products to suit any customer's taste or budget! Best yet, you will find products your customers love right here on our website, a one-stop shop for wholesale general gifts and accessories. Compliment your retail environment with our range of buddha statues and ornaments or even a baby Ganesh figurine - your customers will love you for it! Even better, with premium packaging and boxing, our general gifts always appear to be of the best, premium and high-grade quality, which is surely likely to impress any prospective or future customer!

Why Choose Gibson Gifts for Your Wholesale General Gifts?

As well as offering a wide range of varying, different and unique gift accessories, Gibson Gifts also offer a competitive wholesale price point. Secure, source and procure wholesale general gifts to sell to your customers through us, and maximise your profit market. Also, because we send out orders quickly and promptly, you won't have to wait too long until you can stock your shop shelves or online store with general gifts to suit the need of any customer. Importantly, our products come professionally boxed and packaged up, ready to sell to your customers in perfect condition.