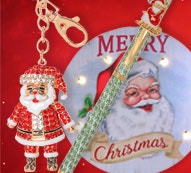 Christmas
Display is limited to 10 products per category. Apply to
open an account
or
login
to view full range and pricing.
Classic Santa Mug

Product Code: 20466

Classic Santa Tray

Product Code: 20469

Vintage Santa Tassled Mug

Product Code: 20553

Vintage Santa Mug & Coaster

Product Code: 20555

Vintage Santa Coaster Set 4

Product Code: 20556

Vintage Santa Tea For One

Product Code: 20554

Gingerbread Xmas Mug

Product Code: 20557

Gingerbread Xmas Tea For One

Product Code: 20558

Gingerbread Xmas Cake Stand

Product Code: 20559

Xmas Nutcracker Footed Mug

Product Code: 54624

Why Choose Gibson Gifts for Your Wholesale Christmas Products?

As well as offering competitive wholesale prices to enable you to source and procure Christmas products for your customers at the most cost-effective price point possible, Gibson Gifts send out orders promptly to make sure they reach you quickly. Of course, we also source the products for you - taking the hard work out of trying to locate the best range of Christmas gifts and accessories to sell to your customers. We find, supply and distribute the items to you, so you can focus on selling to your customers.


Explore a Beautiful Range of Festive Wholesale Christmas Mugs

When it comes to the festive season, few things scream Christmas quite like a warm drink shared with friends and loved ones. So, why not upgrade your holiday offerings with a range of wholesale Christmas mugs and cups from Gibson Gifts? Coupled with our Aussie Christmas teapot, our wholesale Christmas mugs have beautifully fun Australia-themed design options, as well as nutcracker designs for that truly classic festive style.

We also have a range of decorative Christmas doorstops available wholesale - such as our Santa doorstop or our popular and very cute Reindeer doorstop. Our Christmas collection also features decorative, Christmas-themed picture frames - the perfect gift for family members and loved ones.


Deck the Halls With Christmas Plaques, Vases, and More!

Christmas is a time when people go all-out, decorating their homes to truly embrace the feeling of the holidays. That's why, beyond the classic Christmas bags, candles, and picture frames, we also offer some unique festive options for you to explore.

Wholesale Christmas wall plaques for a little extra holiday style

Wholesale Christmas doorstops shaped like Santa and his reindeer

Xmas Nutcracker infusers to make the home smell like holiday cheer

Nativity scene sets that are sure to please family members of all ages

Whatever you need for your customers this Christmas season, Gibson Gifts has an option for you. Explore our full range of holiday products today, and let your customers fill their stockings with something that they and their loved ones will absolutely love.