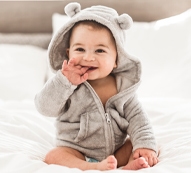 Baby
Display is limited to 10 products per category. Apply to
open an account
or
login
to view full range and pricing.
Baby Koala Dbl Handle Mug (2)

Product Code: 20354

Baby Koala Breakfast Set (2)

Product Code: 20355

Baby Koala 3Pce Cutlery Set(2)

Product Code: 20356

Baby Koala Egg Cup&Spoon Set(2

Product Code: 20357

Baby Koala Money Box (2)

Product Code: 20358

Baby Koala 1St Tooth & Curl(2)

Product Code: 20359

Little Moments Lunch Bag

Product Code: 20529

Little Moments Drink Bottle

Product Code: 20530

Little Moments Beaker

Product Code: 20531

Little Moments Bowl

Product Code: 20532

Shop Our Full Range of Baby Products Wholesale

The Gibson Gifts website is a great spot to source wholesale baby products to sell to your customers. Gibson Gifts are proud to stock a big selection of baby gifts, including a great range of fluffy baby soft toys by popular brand Rollie Pollie. These soft toys are the perfect baby gift as they come in a range of cute and cuddly animal shapes - including Freddie Frog, Eunice Unicorn, Fiona the Fox, Daisy the Duck, Eddie Elephant, and Max the Monkey. Better yet, Rollie Pollie soft toys also come in pre-packaged gift pack bundles featuring each of the animal versions, making it even easier to stock your shelves or online store with wholesale baby gifts and products.

Why Choose Gibson Gifts for Your Wholesale Baby Products?

Enjoy competitive, cost-effective Australian wholesale prices at Gibson Gifts, for all your baby product stock needs. In addition, all of our products are promptly sent out upon ordering, so they can get onto your shelves quickly! Our carefully curated range of baby products is purpose-built to please every parent and suit the interests of all babies, at every age.